Star Munchkin
With the kind permission of Games Workshop, we present the Munchkin take on two bestselling games . . .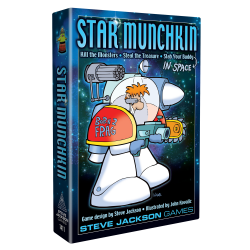 Star Munchkin
The Munchkins are back – and they're in space! Now they're Mutants, Cyborgs, and Cat People . . . grabbing Lasers, Vibroswords, and Nova Grenades . . . fighting Fanged Fuzzballs, Bionic Bimbos, and the Brain In A Jar. Yes, it CAN be combined with Munchkin and all the sequels!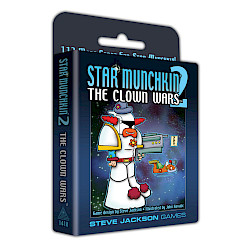 Star Munchkin 2
Strap on the Sprayser or X-Rayser and go ray-gunning for new monsters like the Nerds of Prey! Play a new Race (the Bugs) and Class (Space Ranger) . . . and do it all with Ralph, the Wonder Dog by your side! 112 new and very silly cards.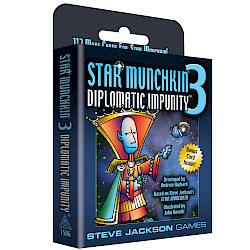 Star Munchkin 3
Another new Race (Veggie) and another new Class (Ambassador)! Fight that Tall Sexy Murderbot and shaky old Emperor Palpitate. Will you Phone Home, or Aim to Misbehave? Another 112 cards for killing monsters . . . In Spaaaaaace!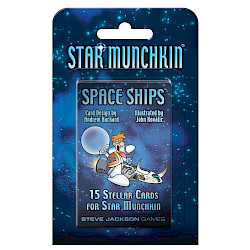 Space Ships
You need more ships! Like the USS Secondprize, the Starfurry, the zzzzzz, and a dozen others! 15 new cards.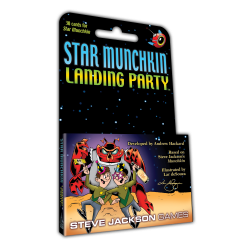 Landing Party
And it's a WILD party! 30 new cards to let you Change the Laws of Physics and board your Giant Space Bagel to fight the Giant Space Bacterium. Makes sense, right?