Munchkin Booty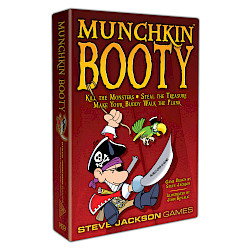 Munchkin Booty
Arrrr!
Avast, ye lubbers! Munchkin be settin' sail on the seven silly seas. Munchkin Booty lets you play the greatest gold-grabbers in history – pirates! Use your Silver Long Johns to beat the Lobster Mobster, drink your Demon Rum to fight off the Viking Kittens, and defend yourself with the Cutlass (or Cutlad, for the gents) against the Prince of Whales. But watch out for Sharks! A complete and very silly game with board, standies, and 168 cards.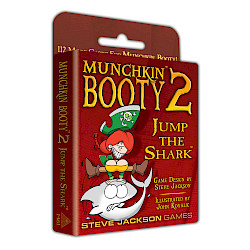 Munchkin Booty 2 – Jump the Shark
112 more cards! Try a new Class – Explorer! Equip your ship with a Weapon of Mast Destruction and, yes, an Outboard Motor. Fight new monsters – the Hammerhead Shark, the Phillips-Head Shark, and the terrible Moby Duck!